The National Organization for the Reform of Marijuana Laws wishes to reiterate its message that cannabis consumers and others beware of online misinformation surrounding the use of either whole-plant cannabis or CBD as a potential remedy for the COVID-19 virus.
In this time of crisis, some predatory marketers are seeking to profit by selling a host of products under a variety of false or unsubstantiated claims. Some of these marketers are explicitly targeting cannabis consumers.
For example, one recent CBD provider recently received warning letters from the US Food and Drug Administration and the Federal Trade Commission for improperly marketing the agent as a key component of its COVID-19 prevention package.
In Oregon, the state Attorney General ordered a Portland CBD retailers to remove misleading advertising claiming that the compound may boost one's natural immunity to the virus. 
In Vancouver, Canada, an unlicensed CBD distributor has come under fire for opining that their products can "help your body defend against COVID-19."
And according to a recent article in Forbes.com, e-mail mass marketers are spamming in-boxes with what purports to be a Fox News article promoting CBD oils and gummies as a novel COVID therapy.
Yet despite these and other claims, including those spreading on social media, there is as of yet no substantiated clinical data supporting either the prophylactic or therapeutic use of cannabis products in the treatment of COVID-19. 
In fact, because COVID-19 is a respiratory illness, NORML has previously suggested consumers – and in particular those patients who may be at greater risk – to either limit or altogether avoid their exposure to combustive smoke of any kind. (A greater discussion of these cannabis safety guidelines are available from NORML here.)
Concluded NORML Executive Director Erik Altieri: "If something sounds too good to be true, it likely is. During these difficult times, we encourage people to be skeptical of any unsubstantiated claims, particularly those circulating online, surrounding the use of cannabis or any other uncorroborated treatment for COVID-19."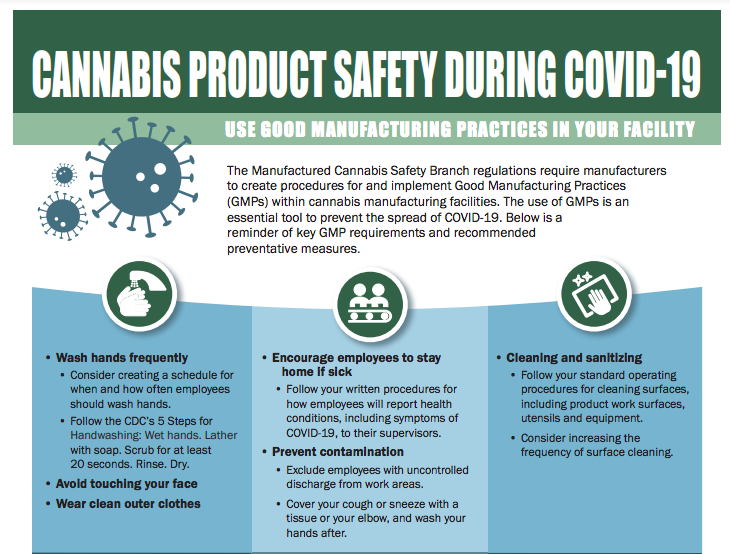 California's Department of Public Health has issued an order deeming cannabis retailer workers and workers supporting cannabis retail as "essential critical infrastructure workers" during the statewide coronavirus "stay at home" order.
The Bureau of Cannabis Control issued a statement saying, "Because cannabis is an essential medicine for many residents, licensees may continue to operate at this time so long as their operations comply with local rules and regulations. Any licensee that continues to operate must adopt social distancing and anti-congregating measures and must follow the CDC's Interim Guidance for Businesses and Employers to Plan and Respond to Coronavirus Disease at all times."
The Manufactured Cannabis Safety Branch of the CDPH reiterated this message, and added, "To continue to ensure the integrity of products, it is important that employees handling cannabis or cannabis products continue to follow good manufacturing practices (GMPs), as required by regulation. GMPs include safe handling practices to prevent contamination, such as washing hands and work surfaces, wearing clean outer clothing, and any precautions necessary to prevent allergen cross-contact or other contamination…. please do what you can to limit exposure to other employees, and follow all social distancing and safety instructions provided by your local and state public health departments." The department put out a poster summarizing their recommendations and requirements.
Stay tuned to CaNORML.org, and our Facebook and Twitter feeds for updates. Please let us know if you have any safety concerns, or experience any issues around access to cannabis during this time.
Also see:
How to Get High Safely During the Coronavirus Pandemic
Cannabis Businesses Deemed "Essential" in California During COVID-19 Orders
CALIFORNIA CANNABIS: COVID-19 RETAIL & DELIVERY SAFETY & SANITATION PROTOCOLS
As Coronavirus, COVID-19 continues to spread throughout the state, country, and world, we feel powerless against this threat of illness, or even death. Many are wondering how to use CBD and cannabis as medicine against Coronavirus and there are many claims and stories circulating online. To be clear, there are no evidence based facts on how CBD and cannabis might help, and the FDA has taken action against companies selling COVID-19 cures.
Cannabinoids work naturally to strengthen and support the immune system, and can be part of your daily defense against illness and disease. Think of your immune system as the checks and balances which protect your cells, and the communication between them. Cannabinoids ensure signaling and messaging works well, and may correct glitches in pursuit of homeostasis, or balance inside your body despite what is happening outside.
Consuming whole foods nutrition, exercise and movement, prayer and meditation, connecting deeply with others, and getting good sleep remain the main pathways to health. Cannabis may indeed help with these activities.
So how can you use cannabis to stay healthy? If you feel aches and pains, vape prior to exercise to decrease the pain and inflammation to help you keep moving. A puff or two of a hybrid sativa may lift your mood and help you smile and sing as you walk. Take 5 mgs of a 1:1 tincture prior to eating that salad so the beets, kale, arugula, and red peppers fill your senses with vibrant flavor which will reinforce your desire to add these foods to your daily diet. Consume 5-10mgs of THC prior to bed to help you fall asleep and stay in slumber a good 6-8 hours.
While pre-clinical work might show cannabinoids can calm a cytokine storm, there is no proof or pathways to dosing in humans battling COVID-19. While topicals are antibacterial, this is a virus, not bacteria. Handwashing and not touching your face is your best defense against this virus. While a daily CBD tincture may support the immune system, THC at high doses acts as an immunosuppressant so keep dosing low so your body can naturally fight infection.
It is appropriate that cannabis businesses are deemed essential, and allowed to remain open to serve patients. Make sure that you are using cannabinoids to help you relax, rest, minimize inflammation and maximize joy. That's your best path forward on beating COVID-19 and thriving in health and wholeness.